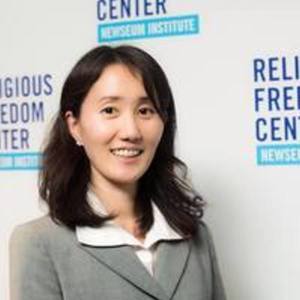 Shino Yokotsuka
Special guest
Shino is a PhD student in the Department of Global Governance, Human Security, and Conflict Resolution at University of Massachusetts Boston. Previously, she worked as a research fellow at the Religious Freedom Center (RFC) of the Religious Freedom Forum (previously the Newseum Institute) where she developed her independent research on religious freedom. She also received the First Amendment education from RFC.
Her research interests lie in freedom of religion, minority rights, comparative immigration and refugee policies, and state identity and foreign policy. As a Christian minority in Japan, she came to be particularly interested in state's treatment of religious minorities and how religious freedom has been promoted particularly in different cultural contexts and national backgrounds.
She has recently published her research, "Embracing Religious Freedom?: A Battle Over Public School Prayer in USA and Japan" in the Oxford Journal of Law and Religion.
Shino Yokotsuka has been a guest on 1 episode.
January 30th, 2020 | Season 2 | 43 mins

christianity, islam, politics, prayer, religion, schools

A Christian and a Muslim talk religion & politics.